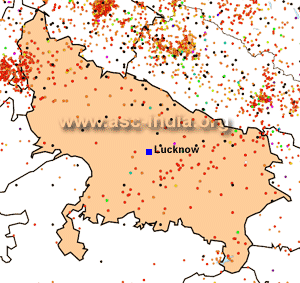 State - Uttar Pradesh, India
Capital - Lucknow
Population - 166,052,859 (2001)

Million+ Cities
Kanpur - pop. 2,532,138
Lucknow - pop. 2,207,340
Agra - pop. 1,259,979
Varanasi - pop. 1,100,748
Meerut - pop. 1,074,229

Population per district (Top 5)
Allahabad - pop. 4,936,105
Kanpur Nagar - pop. 4,167,999
Azamgarh - pop. 3,939,916
Jaunpur - pop. 3,911,679
Moradabad - pop. 3,810,983
---
Earthquake History
Most of the state of Uttar Pradesh lies in the Gangetic Plain. This is a fore-deep, a downwarp of the Himalayan foreland, of variable depth, converted into flat plains by long-vigorous sedimentation. This is known as a geosyncline and the Gangetic Plain is the Indo-Gangetic Geosyncline. This has shown considerable amounts of flexure and dislocation at the northern end and is bounded on the north by the Himalayan Frontal Thrust. The floor of the Gangetic trough (if see without all the sediments) is not an even plain, but shows corrugated inequalities and buried ridges (shelf faults). Beneath Uttar Pradesh, run the Delhi-Haridwar Ridge (DHR), trending NNE-SSW along New Delhi to the Gharwal region. The Delhi-Muzaffarnagar Ridge (DMR), which trends east to west, running from New Delhi to Kathgodam, in Nepal. The last ridge is the Faizabad ridge (FR), which runs in a curved manner, first east to west from Allahabad to Kanpur and then starts to bend towards the north-east towards Lucknow and carries on in this direction towards the Himalayas in Nepal. The depression that forms between the DMR and the FR, forms the West Uttar Pradesh shelf in the west and the Sharda Depression in the east. The region to the south of the FR, forms the East Uttar Pradesh shelf. There are several faults in the region, among them the Moradabad Fault which trends NE-SW and the Bhairwan Fault in the vicinity of Allahabad. Apart from these there are east-west running tear faults in the region that control the courses of the main rivers. Earthquakes have occurred in mostly all parts of Uttar Pradesh. Major earthquakes in the neighbouring states of New Delhi, Uttaranchal, Bihar and from across the Indo-Nepal border have also shaken many parts of Uttar Pradesh. However, it must be stated that proximity to faults does not necessarily translate into a higher hazard as compared to areas located further away, as damage from earthquakes depends on numerous factors such as subsurface geology as well as adherence to the building codes.

Seismic Hazard
The districts of Saharanpur, Muzaffarnagar, Bijnor, Moradabad, Meerut, Etah, Hardoi, Sitapur, Agra, Mainpuri, Farukhabad, Unnao, Lucknow, Bara Banki, Rae Bareli, Sultanpur, Faizabad, Azamgarh, Ballia, Pratapgarh, Jaunpur, Ghazipur, Varanasi and Mirzapur lie in Zone IV. The districts of Etawah, Kanpur, Jalaun, Jhansi, Harimpur, Banda, Fatehpur, Allahabad and Lalitpur lie in Zone III. Since the earthquake database in India is still incomplete, especially with regards to earthquakes prior to the historical period (before 1800 A.D.), these zones offer a rough guide of the earthquake hazard in any particular region and need to be regularly updated (See also: GSHAP Hazard Map for Uttar Pradesh).

Largest Instrumented Earthquake in Uttar Pradesh
10 October 1956 - Bulandshahr District (Uttar Pradesh), 6.2 (IMD)
15:31:36 UTC, 28.20N, 77.70E
One of the most powerful earthquakes in Uttar Pradesh struck the districts of western Uttar Pradesh at 21:01 IST on October 10th, 1956. The massive shock was centred near Jehangirpur, in Bulandshahr District. No fatalities were reported. The shock was also strongly felt at Delhi, where there was some minor damage.

Significant Earthquakes in Uttar Pradesh
The following list briefly outlines known earthquakes in this region. General locations are provided for historical events for which "generalized" epicentral co-ordinates are available. Some events which were significant for other reasons are also included. This list will be updated whenever newer information is available. Please note that Magnitude and Intensity are NOT THE SAME. All events are within the state or union territory covered on this page unless stated otherwise.

Acronyms Used:
D=Depth, OT=Origin Time, Mw=Moment Magnitude, Ms=Surface Wave magnitude, Mb=Body Wave Magnitude, ML=Local Magnitude, M?=Magnitude Type unknown
This listing will be modified without notice. Please check back for the latest version when using it elsewhere. Additionally, please reproduce using appropriate CITATIONS/CREDITS.
15 July 1720 - New Delhi, Delhi, M7.6 (GSHAP Catalog)
28.66N, 77.25E
The last major earthquake in the New Delhi region. Heavy damage in the city.

1 September 1803 - Northern Gharwal region (Possibly Chamoli district) , M > 7
Epicentral location unknown
This earthquake is believed to be one of the strongest earthquakes in this region. Between 200 - 300 were killed in this shock and several villages were buried by landslides and rockfalls. The Badrinath temple located ~40 km north of Chamoli was severely damaged. Tremors were felt as far away as Kolkata. Liquefaction was reported at Mathura.

28 August 1916 - Western Nepal, Mw 7.1 (SSA), Ms 7.3 (SSA), 7.5 (TS),
06:29:30 UTC, 30.00N, 81.00E
This major earthquake was centred near Mount Api. It caused damage to some masonry buildings at Dharchula, India.

7 October 1920 - NW of Sasaram, Rothas District (Bihar-U.P. Border region), 5.5 (KISS)
23.00N, 83.80E

6 November 1925 - Rae Bareili-Sultanpur District border, 6.0 (TS)
19:20:45 UTC, 26.50N, 81.50E

15th January 1934 - India-Nepal Border Region, Mw 8.0
14:21 IST / 08:43 UTC, 26.50N, 86.50E
Among the deadliest earthquakes in Indian history. Close to 10,500 were killed in Bihar. Damage occurred in eastern Uttar Pradesh, at Allahabad, Lucknow, Varanasi and many other places.

8 November 1952 - Indo-Nepal Border region (Bahraich-Gonda Districts), 6.0 (TS)
10:41:54 UTC, 27.90N, 82.20E

29 August 1953 - Indo-Nepal Border region (Bahraich-Gonda Districts), 6.0 (TS)
01:58:25 UTC, 27.90N, 82.20E

4 September 1954 - West of Pokhara, Central Nepal, 6.75 (TS)
06:45:14 UTC, 28.30N, 83.80E

10 October 1956 - Bulandshahr District (Uttar Pradesh), 6.2 (IMD)
15:31:36 UTC, 28.20N, 77.70E
One of the most powerful earthquakes in Uttar Pradesh struck the districts of western Uttar Pradesh at 21:01 IST on October 10th, 1956. The massive shock was centred near Jehangirpur, in Bulandshahr District. No fatalities were reported. The shock was also strongly felt at Delhi, where there was some minor damage.

27 August 1960 - Gurgaon-Faridabad Districts (Haryana), 6.0 (TS)
15:58:59.20UTC, 28.20N, 77.40E
Damage from this earthquake extended into New Delhi where at least 50 people were injured. Structural damage was reported in Karol Bagh and cracks in houses in R.K.Puram.

24 December 1961 - Indo-Nepal Border region (Pilibhit, Nainital, Kheri Districts), 6.0 (TS)
07:13:30 UTC, 28.80N, 81.50E

1 June 1965 - West of Ghorakpur, (Ghorakpur-Basti Districts), 5.7 (TS)
07:52:30 UTC, 27.00N, 83.00E

15 September 1966 - South of Moradabad, (Moradabad-Rampur Districts), 5.8 (TS)
02:15:33.80 UTC, 28.70N, 78.90E

29 July 1980 - Western Nepal, Mw 6.8 (HRV)
14:58:40 UTC, 29.60N, 81.09E
Between 150 - 200 persons were killed and hundreds injured. Extensive damage in several towns in western Nepal. The quake also caused damage in Pithoragarh area, nearly 50 kilometres away from the epicentre. 13 persons were killed here and 40 were injured. The quake was felt as far away as Kathmandu and New Delhi.

21 October 1991 - Near Pilang (Uttarkashi District), Mw 6.8 (NEIC)
21:23:14 UTC / 02:53:14 IST, 30.78N, 78.77E
Between 750 to 2000 people killed in the Gharwal region. It was also felt very strongly in Uttar Pradesh, Chandigarh, Delhi, Haryana and Punjab. Some minor damage was reported in Chandigarh and New Delhi.

29th March 1999 - Near Gopeshwar (Chamoli District), Mw 6.5 (HRV)
19:05:11 UTC, 30.492N, 79.288E
115 people killed in the Gharwal region. The quake was felt very strongly in Uttar Pradesh, Chandigarh, Delhi and Haryana. In Haryana, one person was killed in the city of Ambala and 2 at Nakodar in the neighbouring state of Punjab. Minor damage to buildings in New Delhi, most significantly in Patparganj. Minor damage also reported from Chandigarh.

18 October 2007 - Gautambudhnagar, Uttar Pradesh, M 3.6
05:54:41 UTC, 28.300 N, 77.600 E
A mild earthquake struck the district of Gautambudhnagar in western Uttar Pradesh, India, on 18 October 2007 at 11:24 AM local time. It had a magnitude of M?=3.6 and caused minor damage in the epicentral region.