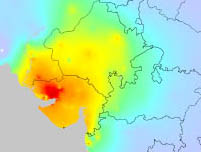 Recently intensity data from historic earthquakes such as the 1811-1812 New Madrid and 1819 Allahbund earthquakes, have been displayed utilizing a similar colour scheme as ShakeMaps. The ASC has used macroseismic/intensity data collected after earthquakes in India to create Historical Intensity Maps for some of the most significant events. Not only was information from published scientific studies used, but felt reports that were sent in using the 'Felt A Quake?' page as well. So if you felt any of the earthquakes listed here (or any others), do take the time to fill out the 'Felt A Quake?' online questionnaire. Your information can contribute greatly in updating existing maps or creating new maps.

Difference between ShakeMap & Historical Intensity Maps
Historical Intensity Maps should not be confused with traditional ShakeMaps. ShakeMaps display shaking intensities of earthquakes using measured ground motion data (peak velocity and acceleration) obtained from instrumental readings. Historical Intensity Maps on the other hand display the extent of the shaking and the damage caused during a particular event derived from human perceptions & damage to the the built up environment. Please note, that each of these earthquakes have been re-assessed by the ASC, with additional data, and reduced to EMS-98 (corresponding values from MSK-64, -81 & -92) taking into account building construction methods in South Asia and the sometimes misleading effects of liquefaction on shaking intensity. This list will be periodically updated without notice.
| | |
| --- | --- |
| | Do Not Plagiarize! |
Historical Intensity Maps published on this page may be reproduced elsewhere in print or electronic form (including WWW links) without removing the ASC logo from any maps and by provided a reference is cited to the ASC website i.e. "www.asc-india.org".
'Io' column indicates the highest EMS-98 intensity determined from the same. Note, requests for intensity data sets or methods used to produce these maps will not be entertained. Interested parties should please consult cited references. Additional maps will be made available online once published macroseismic studies are available.