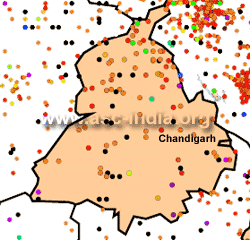 State - Punjab, India
Capital - Chandigarh (U.T.)
Population - 26,909,428 (2001)

Million+ Cities
Ludhiana - pop. 1,395,053

Population per district (Top 5)
Amritsar - pop. 3,096,077
Ludhiana - pop. 3,032,831
Gurdaspur - pop. 2,104,011
Sangrur - pop. 2,000,173
Jalandhar - pop. 1,962,700
---
Earthquake History
Punjab lies in a fore-deep, a downwarp of the Himalayan foreland, of variable depth, converted into flat plains by long-vigorous sedimentation. This is known as a geosyncline. This has shown considerable amounts of flexure and dislocation at the northern end and is bounded on the north by the Himalayan Frontal Thrust. The floor of the trough (if see without all the sediments) is not an even plain, but shows corrugated inequalities and buried ridges (shelf faults). Much of Punjab lies in the Punjab Shelf, bounded on the east by the Delhi-Haridwar Ridge and on the south by the Delhi-Lahore Ridge. Most earthquakes in this region are shallow though a few earthquake of intermediate depth have been recorded in Punjab. However, it must be stated that proximity to faults does not necessarily translate into a higher hazard as compared to areas located further away, as damage from earthquakes depends on numerous factors such as subsurface geology as well as adherence to the building codes.

Seismic Hazard
The districts of Firozpur, Faridkot, Patiala, Mansa, Sangrur and Bhatinda lie in Zone III. The districts of Amritsar, Gurdaspur, Hoshiarpur, Jalandhar, Kapurthala, Ludhiana, and Rupnagar lie in zone IV. Since the earthquake database in India is still incomplete, especially with regards to earthquakes prior to the historical period (before 1800 A.D.), these zones offer a rough guide of the earthquake hazard in any particular region and need to be regularly updated (See also: GSHAP Hazard Map for Punjab).

Largest Instrumented Earthquake in Punjab
14 October 1970 - North of Firozpur (Indo-Pakistan Border region), 5.2 Mb (USCGS)
00:36:34.0 UTC, 31.26N, 74.50E, 44 kms depth

Significant Earthquakes in Punjab
The following list briefly outlines known earthquakes in this region. General locations are provided for historical events for which "generalized" epicentral co-ordinates are available. Some events which were significant for other reasons are also included. This list will be updated whenever newer information is available. Please note that Magnitude and Intensity are NOT THE SAME. All events are within the state or union territory covered on this page unless stated otherwise.

Acronyms Used:
D=Depth, OT=Origin Time, Mw=Moment Magnitude, Ms=Surface Wave magnitude, Mb=Body Wave Magnitude, ML=Local Magnitude, M?=Magnitude Type unknown
This listing will be modified without notice. Please check back for the latest version when using it elsewhere. Additionally, please reproduce using appropriate CITATIONS/CREDITS.

4 April 1905 - Kangra (Himachal Pradesh), Mw 7.8
33.00 N , 76.00 E, OT=00:50 UTC
At leats 28,000 people were killed in the Kangra-Dharamsala region of Himachal Pradesh. Damage and casualties also occurred in adjoining parts of Punjab including in the cities of Amritsar, Lahore, Jalandhar, Ludhiana and Sialkot.

14 October 1970 - North of Firozpur (Indo-Pakistan Border region), 5.2 Mb (USCGS)
31.26 N, 74.50 E, D=044.0 kms, OT=00:36:34 UTC,

21 October 1991 - Near Pilang (Uttarkashi), Uttaranchal, Mw 6.8
30.78 N, 78.77 E, OT=21:23:14 UTC
Between 750 to 2000 people killed in the Gharwal region. It was also felt very strongly in Uttar Pradesh, Chandigarh, Delhi, Haryana and Punjab. Some minor damage was reported in Chandigarh and New Delhi.

17 October 1997 - North of Jalandhar, Gurdaspur District (Punjab), 5.1 Ms (EIDC)
31.616 N, 75.774 E, D=38 kms, OT=17:36:31 UTC

29 March 1999 - Near Gopeshwar (Chamoli), Uttaranchal Mw 6.5 (HRV)
30.492 N, 79.288 E, OT=19:05:11 UTC
115 people killed in the Gharwal region. The quake was felt very strongly in Uttar Pradesh, Chandigarh, Delhi and Haryana. In Haryana, one person was killed in the city of Ambala and 2 at Nakodar in the neighbouring state of Punjab. Minor damage to buildings in New Delhi, most significantly in Patparganj. Minor damage also reported from Chandigarh.

8 October 2005 - Kashmir-Kohistan, Pakistan-India border, Mw 7.6
34.432 N, 73.537 E, D=020.0 kms, OT=03:50:40 UTC
A major earthquake struck the India-Pakistan border on the morning of 8 October 2005. It had a magnitude of Mw=7.6 and was felt strongly in much of Pakistan, northern India and eastern Afghanistan. The earthquake resulted in more than 80,000 deaths in northern Pakistan and adjoining parts of Jammu & Kashmir, India and is by far one of the deadliest in the sub-continent. At least 10 people also died in other parts of north India (including 2 in Punjab) and 4 in Afghanistan due to this earthquake. Tremors from the earthquake were felt more than a thousand kilometres away in the Indian states of Gujarat, Madhya Pradesh and Uttar Pradesh.
14 March 2010 - Near Hiranagar, Punjab, Mb=4.5
32.134 N, 75.759 E, D=58.3 kms OT=06:53:29 UTC
A light earthquake occurred in northern Punjab along the Punjab-Himachal Pradesh border on 14 March 2010 at 12:23 PM local time in India. It had a magnitude of Mb=4.5 and was felt over a wide area due to its depth.