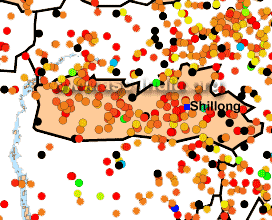 State - Meghalaya, India
Capital - Shillong
Population - 2,306,069 (2001)

Population per district (Top 5)
East Khasi Hills - pop. 660,923
West Garo Hills - pop. 518,390
Jaintia Hills - pop. 299,108
West Khasi Hills - pop. 296,049
East Garo Hills - pop. 250,582
---
Earthquake History
Nearly all of the state of Meghalaya, lies on the "Shillong Massif". This is a block-like structure that has not undergone much folding or faulting as compared to the surrounding areas. The main threats to the state come from faults bounding the massif with the surrounding areas. The northern part of the massif has several faults, among the newly identified Oldham Fault that is believed responsible for the 1897 earthquake. The southern boundary is marked by the east-west trending Dauki Fault, along the Bangladesh border. Moderate earthquakes have occurred in this state but the most significant of all was the Great Assam earthquake of 1897. Centred across the state border in Assam, much of Meghalaya was severely jolted especially Shillong.

Seismic Hazard
All districts of the state of Meghalaya lie in Zone V. Since the earthquake database in India is still incomplete, especially with regards to earthquakes prior to the historical period (before 1800 A.D.), these zones offer a rough guide of the earthquake hazard in any particular region and need to be regularly updated (See also: GSHAP Hazard Map for Meghalaya).

Largest Instrumented Earthquake in Meghalaya
7 April 1951 - Near Rongrengiri, Meghalaya, 6.8 (TS)
20:29:12.40 UTC, 25.80N, 90.40E

Significant Earthquakes in Meghalaya
The following list briefly outlines known earthquakes in this region. General locations are provided for historical events for which "generalized" epicentral co-ordinates are available. Some events which were significant for other reasons are also included. This list will be updated whenever newer information is available. Please note that Magnitude and Intensity are NOT THE SAME. All events are within the state or union territory covered on this page unless stated otherwise.

Acronyms Used:
D=Depth, OT=Origin Time, Mw=Moment Magnitude, Ms=Surface Wave magnitude, Mb=Body Wave Magnitude, ML=Local Magnitude, M?=Magnitude Type unknown
This listing will be modified without notice. Please check back for the latest version when using it elsewhere. Additionally, please reproduce using appropriate CITATIONS/CREDITS.

12 June 1897 - Near Rangjoli, Assam, Mw 8.0
26.00N, 91.00E
Close to 1,500 people were killed and hundreds injured. Heavy damage occurred in most parts of Meghalaya and Assam. Damage occurred as far as Kolkata, Dhaka and eastern Bihar. Tremors were felt over a wide section of India.

9 September 1923 - West of Durgapur, Dhaka Division (Indo-Bangladesh Bdr.), 7.1 (TS)
22:03:42 UTC, 25.25N, 91.00E

2 July 1930 - South of Dhubri, Assam (Meghalaya - Assam Border region), 7.1 (TS)
21:03:34.4 UTC, 25.80N, 90.20E
Heavy damage occurred in Dhubri. No fatalities were recorded for this earthquake, despite the fact that it occurred late at night.

27 March 1932 - North-west of Jowai, Meghalaya, 6.0 (TS)
08:48:45 UTC, 25.50E, 92.50N

19 May 1945 - Near Mohanganj, Dhaka Division (Indo-Bangladesh bdr. region) 6.0 (TS)
05:02:53 UTC, 25.10N, 90.90E

7 April 1951 - Near Rongrengiri, Meghalaya, 6.8 (TS)
20:29:12.40 UTC, 25.80N, 90.40E