Recent Earthquakes
Felt An Earthquake?
Historical Intensity Maps
South Asia Seismicity
Great Earthquakes
Tsunamis & Seiches
GSHAP Hazard Maps
Seismology Links
Be Earthquake Safe!


Advertisement Advertisement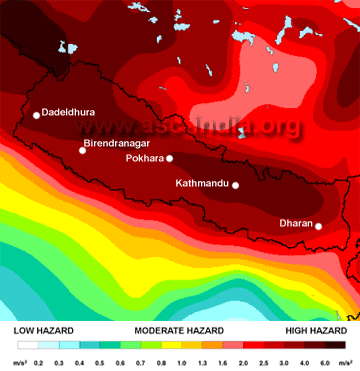 According to GSHAP data, Nepal lies in a region with high to very high seismic hazard. Historically, earthquakes in the M6.0-7.0 range have been experienced and at least two in the M7.5-8.0 range in 1833 and 1934 respectively. Approximate locations of selected towns and basic political state boundaries are displayed. This map can be reproduced in print or electronically for non-commercial use provided the embedded website link is not removed. and use it to organise these maps on your computer for future reference.