Recent Earthquakes
Felt An Earthquake?
Historical Intensity Maps
South Asia Seismicity
Great Earthquakes
Tsunamis & Seiches
GSHAP Hazard Maps
Seismology Links
Be Earthquake Safe!


Advertisement Advertisement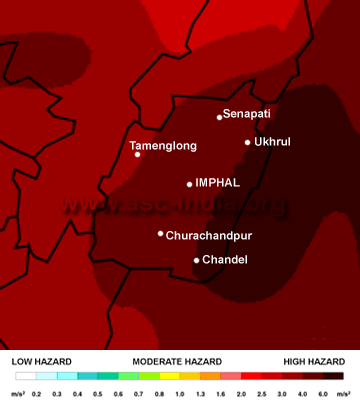 According to GSHAP data, the state of Manipur falls in a region of high to very high seismic hazard. As per the 2002 Bureau of Indian Standards (BIS) map, this state also falls in Zone V. Historically, parts of this state have experienced seismic activity greater than M6.0-7.0. Approximate locations of selected towns and basic political state boundaries are displayed. This map can be reproduced in print or electronically for non-commercial use provided the embedded website link is not removed. and use it to organise these maps on your computer for future reference.